Ancient folk song and my enneagram training
At the start of June, I attended a beautiful enneagram coaching training programm with Ginger Lapid- Bogda. There were a lot of insights and it was definitely valuable experience. And one of them was- a final assignment. There were necessity to make one special work, which symbolizes experience gained through out this training. For me it was quite easy task, as the last training day was exactly on Midsummer evening- Summer Solstice. I spent all night awake due to meet sunrise in the morning. After some hours sleep I woke up and record one ancient folk song. There wasn`t any question about other choices. I was completely sure about it. So, here is the words of song in english and my training experience matched them. The original song, of course is in latvian- called Baltā pupa. Here it is BaltaPupa.m4a



| | |
| --- | --- |
| Song WHITE BEAN | How it relates to my work with my intention |
| I had one white bean I didn't know where to plant | I had an idea, but not completely sure about the way, how to implement it |
| I planted a white bean In a white sand hill | I decided to work with it in a particular training programm with pure believing in result |
| I ascended to heaven Along those bean sprouts | Through training process I start to discover how my intention could be "branched"/ go to different sides, but I kept to go through process with pure believing to process |
| I saw the son of God Measuring handfuls of bees | I got a lot of thoughts and ideas from interaction with trainer, assistant and training colleagues. |
| I forged a sword From those bee stings | I got an instrument set for work due to reach my intention |
| I cut off the Devil's head With that I will be a sword | I understand (again, I know) what must be changed in my mental model- break up a causal loop |
| My brown skirt came off With that Devil's blood | I met the emotions regard my intention (lost sorrow and feeling of satisfaction) |
| I asked dear Mara Where I will wash them | I got a coaching sessions 😊 |
| Looking for such a lake Where nine rivers flow | And got a different perspective to my emotional map |
| I asked dear Mara Where I will dry them | I met the enneagram learning portal |
| Looking for such an oak tree Who has nine tops | And got a so many ideas, which could be used to 9 different type of persons. |
| I asked dear Mara Where will I store them? | I got an body scanning experience |
| Looking for such an ash chest Who has nine keys | Body is so amazing resource- there is need only to get and acknowledge the value, what is inside of it! |
| I asked dear Mara When I wear them out | I got coaching session – map work |
| Wear them that day When nine suns shine | For me it is about integration of all aspects of me and enjoy the world fully, where different type of energies exists simultaneously and I have access to each of them. Not only in connecting with my current intention, but in every other, which, I gain in future. |



I want to say many thanks to Ginger for amazing work done for us as well for all society in such a structured and loving manner! As well my thanks goes to Gwen, for taking care of me just after registration! And thank you, Chloe, for valuable feedbacks and touches of academic fun during our training!

Thanks for all the participants for acceptance my language struggle and, of course, for caring, sharing un coaching!

Definitely recommend to enjoy such experience!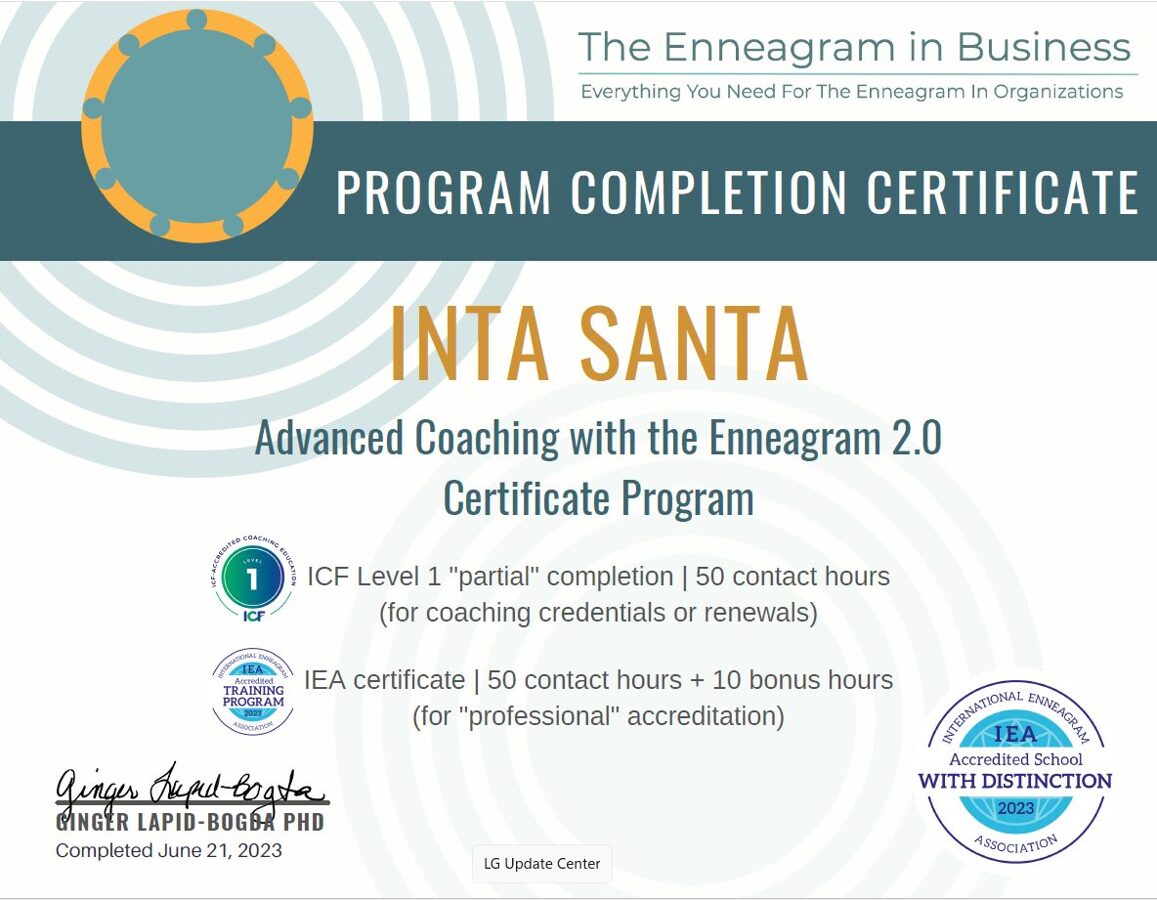 Nav komentāru
Komentēt